Pre-owned guitars at Peach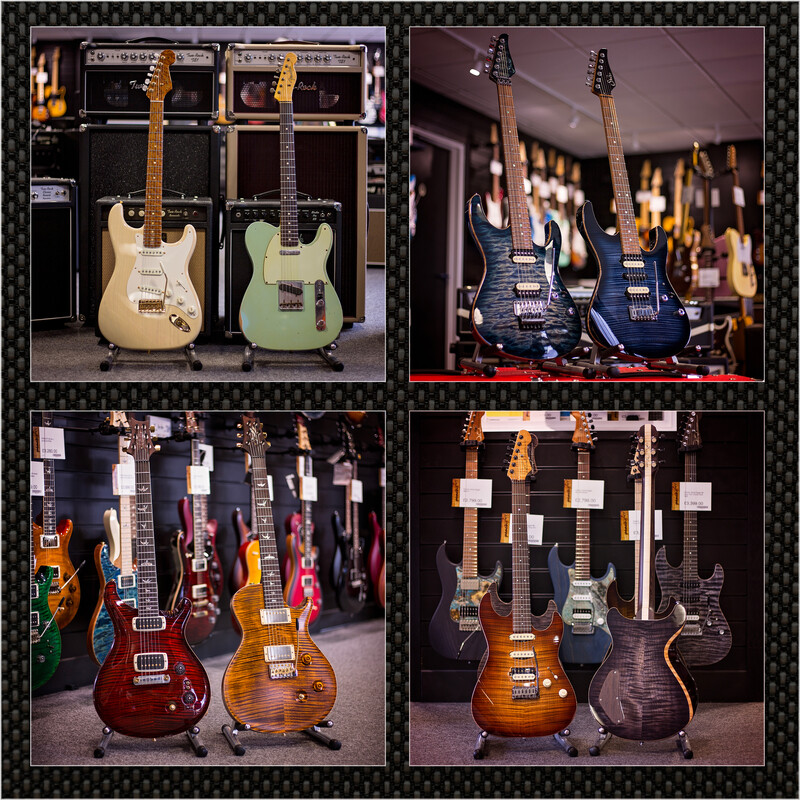 It's that time of the week again when we dazzle you with all the monster pre-owned deals we have in store. It's been a mega week with some really special guitars coming in to stock, so take a seat and I'll fill you in.
Our pre-owned stock changes daily, so to make sure you don't miss anything click on the pre-owned tab under Guitars on the menu bar. We have a great selection in at the moment so check them out; we might just have what you have been searching for!
First up, we have a quartet of super delicious Gibson's. Joe Bonamassa is a very vocal fan of vintage LP's and the '59 Skinnerburst is a detail perfect replica of his most prized guitar, the affectionately named Principal Skinner. Through unrestricted access to Joe's favourite guitar, the Custom Shop have been able to deliver a historically accurate, flawlessly replicated tonal monster. This model is one of only 150 that were given the classic VOS finish; it's a real treat and a serious collector's piece. Although listed as used, it has been stored away safe and sound with only very minimal play time, it's a beauty and not a guitar that usually hits the second hand market. The Gibson Custom True Historic '59 in Vintage Dark Burst delivers the absolute pinnacle of accuracy and attention to detail, this is as close as you can get to owning a '59 without the six figure price tag! A double carved, hand sanded top, a neck with hand rolled fingerboard binding and plastics that have been replicated from molecular level analysis of original parts, make this the ultimate vintage LP experience, it's obsessive design from Gibson! Most importantly though, it plays like a dream, smooth and focused it's easy to see why the '59 is considered the very best.
How about a super tasty Tom Murphy aged R9? For as long as Gibson Custom Shop has been making reproductions of vintage sunburst Les Pauls, Tom Murphy has been perfecting the craft of capturing the magic and vibe of the originals models. This particular guitar really does ooze vintage mojo, the ageing is really authentic and it looks incredible. Last but by no means least is a super tasty LPR8, using ultra select woods which were chosen based on their light weight and tonal qualities, the R8 offers a gorgeous flame maple top, a slim '60s neck profile and an Antique Teaburst VOS finish. It's a brilliant fusion of vintage and modern and for £3499, a great option if you're looking for a real tonal powerhouse.
If you fall on the other side of the great guitar divide, we have a few real gems from Corona's finest. The Fender Custom Shop 1963 Telecaster in Faded Sonic Blue is a real eye catcher! This guitar takes us right back to the golden era of Tele construction and delivers that classic Tele twang. Loaded with a duo of hand-wound Abigail Ybarra Twisted Tele pickups, this is one Tele you don't wanna mess with! A real NAMM 2017 beauty is the American Custom Strat in Vintage Blonde, with a Roasted Birdseye Maple neck, compound 9.5"-12" radius and NOS finish, this is one super cool cat. With hand-wound '69s in the neck and middle positions, this guitar benefits from a Texas Special at the bridge for classic blues tones.
Aside from the big two, we have some real statement pieces. We have a stunning PRS 408 Signature, limited to 400 guitars; this Fire Red Burst beauty features an Artist Grade Flame Maple top and Sinker Mahogany neck. A Rosewood fingerboard with Paua Heart bird inlays offers a more premium aesthetic while the Signature/408 Treble and Bass pickups give you 8 distinct tones via 4 individual coils. This is great piece for players and collectors alike, it has a real vintage vibe but with a modern feel. If you dig the PRS DGT check out these two, we have a Goldtop with Moon inlays and a Faded Yellow with birds, both deliver that classic Dave Grissom tone. The DGT is one of our favourite models; it's perfectly balanced, tonally rich and so easy to play. If you are looking for a guitar to really stop people in their tracks, this is the one. The PRS Private Stock Modern Eagle Singlecut, this 2007 model has a killer Flame Maple top with the majestic Yellow Tiger finish. With a Brazilian Rosewood neck it offers great sustain and a real warmth. Brazilian Rosewood is becoming increasingly difficult to get hold of and this example really is something special. It's in fantastic condition and doesn't really show any signs of wear and comes housed in the original PRS hardcase for extra security. This will not hang around for long, so you better move fast.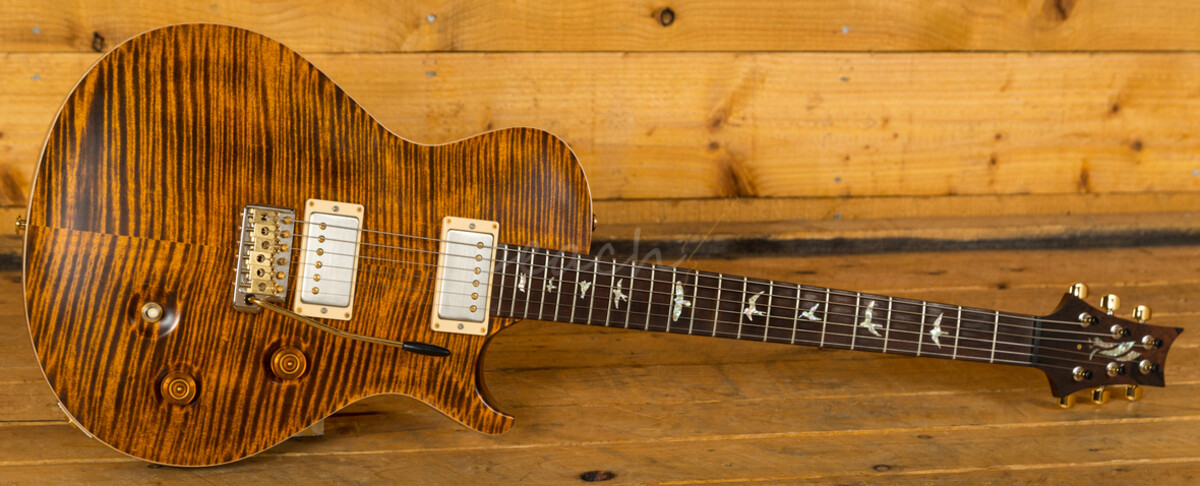 Patrick James Eggle is very much the modern day hero of British guitar design. In addition to being the man behind Faith acoustics and the recently revived Shergold brand, Eggle is best known for crafting boutique guitars of the very highest order. We have 3 stone cold stunners in our pre-owned collection at the moment and we can't recommend them highly enough. The Macon Carve Top Twin and 96 Drop Top Twin have such a high level of craftsmanship and attention that Pat has confirmed he won't be building any more, they really have to be seen to be fully appreciated. The Honduran Mahogany Macon boasts a carved Redwood top and a slick Madagascan Rosewood fingerboard, all 3 are equipped with MOJO pickups and sound, look and feel out of this world.
If you want something that can deliver a 21st century tone with mega aesthetics and flawless construction, the Suhr Modern is the guitar for you. We have a pair of the sweetest around, both feature Pau Ferro fingerboards on Roasted Maple necks and with the modern elliptical profile. The Modern Carve boasts DSV and DSH Suhr humbuckers and a Gotoh Floyd style trem. The 2016 Modern has a powerhouse HSH configuration and has an ML singlecoil sitting in between SSV and SSH Plus humbuckers, these powerhouse guitars compete against the very best around and we absolutely love them!
This is just a small cross section of our electric range; we have further models from PRS, Gibson, Suhr, Thorn and Supro so be sure to check them out.
For the full range be sure to check the pre-owned section of our website, we also have a great range of acoustic guitars and amps available for you to feast your eyes on too.
As always, our used gear is professionally set up, ready to rock and comes with a 3 month warranty (excluding valves).
For further details check our listings and studio pictures or give us a ring!