Peach Pre-Owned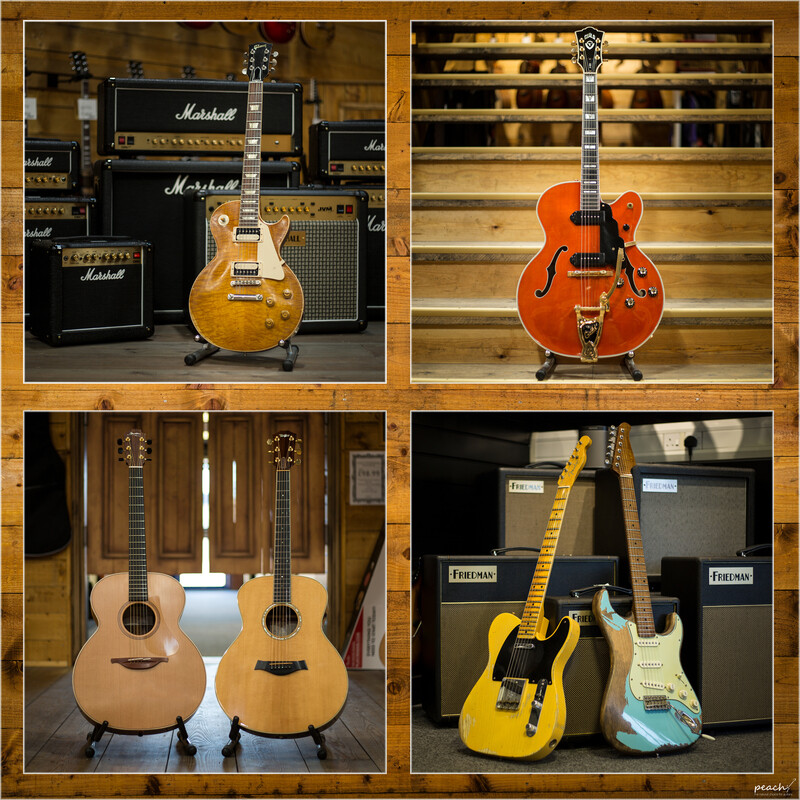 It's that time of the week again when we dazzle you with all the monster pre-owned deals we have in store. It's been a mega week with some really special guitars coming in to stock, so take a seat and I'll fill you in.
Our pre-owned stock changes daily, so to make sure you don't miss anything click on the pre-owned tab under Guitars on the menu bar. We have a great selection in at the moment so check them out; we might just have what you have been searching for!
First up, we have a trio of super delicious Gibson's, and this '59 Heavily Aged CC#4 is one of the sweetest we've ever seen. With a gorgeous Flame Maple top, this LP boasts the CC#4 custom colour that was inspired by Tom Wittrocks original '59, Sandy. Aged to perfection it's super authentic and offers a real vintage vibe. Loaded with a pair of exposed Zebra humbuckers, it delivers genuine PAF tone with an ultra-rich harmonic quality. If you're in the market for a Les Paul, you won't find many better. If you prefer something a little more refined, how about the unbelievably classy Custom Byrdland? The first model in Gibson's thinline series back in '55, the Byrdland was designed to offer a more streamlined experience than the famously bulky L5. Named after Nashville session players Billy Byrd and Hank Garland, the Byrdland features a shorter 23.5" scale length which really opens up the fretboard, it's beautifully balanced and is built for speed and precision. Complete with COA and hardcase, it's a serious guitar. Slightly less sophisticated but no less radical is the 2017 High Performance Flying V, if its killer looks weren't enough, this bad boy has been turbo charged! With a fast access heel, zero fret with adjustable nut and a slick Grenadillo fingerboard, it's built to rock, and thanks to a pair of Dirty Fingers humbuckers and G-Force tuners it's perfect for down tuned riffage. It's immaculate and a great take on the iconic V design.
If you fall on the other side of the great guitar divide, we have a real gem from Corona's finest. The Fender Custom Shop '52 Telecaster relic is every bit the classic Tele, delivering a real Springsteen vibe, this guitar takes us right back to the early days of Leo Fenders vision. With a lightweight Ash body and relic'd Nocaster Blonde finish, it has a really distinct character and oozes vintage cool. Loaded with hand wound '51 single coils it's the classic Tele spank that made this the ultimate workhorse guitar. Complete with hardcase, COA and case candy, this is a steal at just £2299.
Aside from the big two, we have some real statement pieces. The Guild X500t is a super spec'd USA dream machine, finished in the glorious Tennessee Orange it has a real rockabilly swagger. These stunners are getting increasingly difficult to track down and there is a real market for them now, they are quite the collector's piece. With a pair of P90 pickups and the gold "Guildsby" tremolo, this is a serious player, we believe it to be a 1995 model but it looks and feels as great as the day it left the factory.
A real favourite of ours is the frankly ridiculous Xotic California Classic XSC-1, this super heavy relic model was a NAMM 2017 show guitar, and as the UK exclusive dealer it came into us first. We moved it on and now it's back! It's an absolute peach, 5A roasted Flame Maple neck, sonic blue nitro finish and a trio of Raw Vintage RV-60 pickups, its mega specs are only matched by its mega tone. It's in fantastic condition and really is one of the best Xotics we've had. Complete with case, this is your chance to get your hands on a really special guitar.
This is just a small cross section of our electric range; we have further models from PRS, Gibson, Gretsch, Suhr, Thorn and Patrick James Eggle so be sure to check them out.
If you're on the hunt for the perfect companion for your super sweet electric, check our range of used amps. Whether you need an amp for home practice, recording or to push some serious air at the weekends, we've got your back! We have a great range of used Dr. Z amps all in great condition and ready to hit the stage, they offer premium tone and really are at the peak of modern amp construction. We love 'em, and they certainly all come with a hearty Peach recommendation. Joe Walsh loves 'em too so who are we to disagree.
We also have an absolutely killer Mesa Boogie Transatlantic TA-15 head. Possibly the best lunchbox amp around, this little firecracker goes from clean to scream and everything between, it may be small in size but it's huge on tone! A Suhr Badger 30 head and 1x12 cab are up for a bargain £1799, this super sweet little package delivers incredible response and clarity, a real favourite of ours. Matchless Amplifiers were the guys that really paved the way for this golden era of boutique amps, the Independence 35 Head was the first 35 watt 3 channel amp Matchless released and it's something of a cult classic. With sparkling cleans, thick drives and a spicy distortion this amp is a real juggernaut.
For those of you looking for something a little more organic, we have a few real sweet acoustics on offer.
It's not often a Lowden finds its way on to the used market, but we have a beautiful O-23. With a crisp Walnut back and sides and a warm Cedar top, it offers a classic tonewood combination that really hits the spot. Lowden are considered by many to be the pinnacle of acoustic guitar production and it's easy to see why with the O-23. It really is in great condition, a guitar like this is impossible to put down and really does demand to be played, and with only the slightest marking you're getting a substantial saving at only £2499.
The Taylor GS8 is a discontinued tonal powerhouse, with its grand symphony body shape it is perfectly suited to strumming big, bold chords. The warmth of the Sitka Spruce top is balanced out by the attack of the Indian Rosewood body for a lush deep tone. Bob Taylor places Indian Rosewood as one of his all-time favourite tone woods and when a guitar sounds as full as this, who can disagree.
As always, our used gear is professionally set up, ready to rock and comes with a 3 month warranty (excluding valves).
For further details check our listings and studio pictures or give us a ring!