Peach Pre-Owned Guitars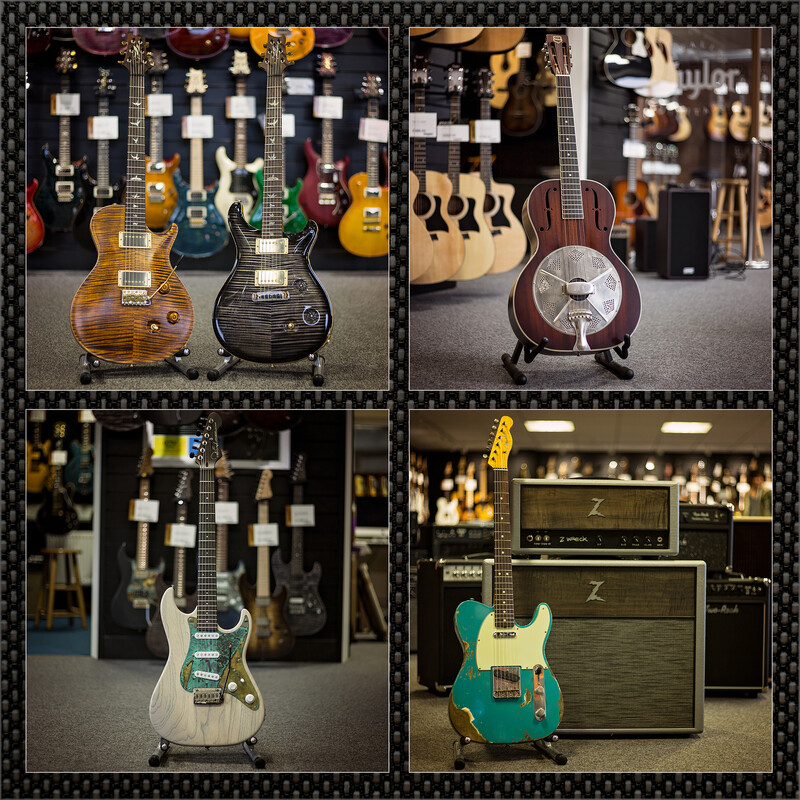 We all love a bargain, right? Well, grab a brew, take a seat and let me fill you in on some of the stellar deals we currently have on pre-owned guitars. We are really proud to stock some of the very finest and most exquisite guitars in the world, and with more incredible new stock turning up every day it's sometimes easy to overlook some of the killer pre-owned gear we have.
Our stock changes daily, so to make sure you don't miss anything click on the pre-owned tab under Guitars on the menu bar. We have a great selection in at the moment so check them out; we might just have what you have been searching for!
First up is a real show stopper from the Fender Custom Shop, especially commissioned for NAMM 2017, the Custom Shop Ltd '63 Relic Telecaster in Taos Turquoise takes us right back to the golden era of Tele production. Benefitting from a light weight Ash body and a heavy relic nitro finish, this is vintage inspired at its very best, it has a really organic tone and thanks to the light finish it sustains for days. Rockin' a Flame Maple neck with an AAA-grade Rosewood board, it fuses workhorse specs with a little touch of luxury. With a 9.5"-12" radius, 60's style C profile and 21 Sanko 6105 frets, its solid, robust and will never let you down. This beaut is loaded with a duo of handwound Twisted Tele pickups and also boasts Fenders ever popular Greasebucket tone circuit for delicious Tele twang on tap. We had this guitar from new and only sold it on a few months back, since then it has been kept in minty fresh condition in its Fender Custom Shop hard case. It's one of our favourites and whoever takes it home is going to fall in love!
Maybe the Ancho Poblano Strat is more your bag, with a 2-Tone Sunburst Journeyman finish, a '51 U profile and a trio of Ancho Poblano single coils this is a real tone machine. The Anchos get progressively hotter from neck to bridge and are uniquely calibrated to offer a distinct tonal flavour. Overwound by hand they are the holy grail of single coils
If you are looking for a guitar to really stop people in their tracks, this is the one. The PRS Private Stock Modern Eagle Singlecut, this 2007 model has a killer Flame Maple top with the majestic Yellow Tiger finish. With a Brazilian Rosewood neck it offers great sustain and a real warmth. It's in fantastic condition and doesn't really show any signs of wear and comes housed in the original PRS hardcase for extra security. This will not hang around for long, so you better move fast. If you dig the Modern Eagle but prefer the double cut, check out this Wood Library Modern Eagle II, with a killer high gloss Charcoal Burst 10 top, this is one of only 3 ever built to this spec. The Black Rosewood neck is glorious and has 24 frets and a Wide Fat profile, it offers a really warm tone and with Abalone and Paua birds, its every bit the superstar guitar.
If you want something that can deliver a 21st century tone with mega aesthetics and flawless construction, the Suhr Classic Pro is the guitar for you. With the timeless S body shape, the Classic Pro brings a super thin lacquer finish, compound 9"-12" radius, rolled frets and the signature Suhr SSCII noise reduction system to the table for the ultimate vintage inspired, modern tonal behemoth.
A real highlight of our Suhr range is the 2014 Collection Zebrawood Classic T. This stone cold stunner features a Mahogany body in between a striking Zebrawood top and back. Zebrawood has really well defined low and high ends and crisp projection, its tonally similar to Maple but with a little bit more of a darker edge. Not only is it a great tonewood, it has a super distinctive appearance and this one looks incredible. It also boasts a Brazilian Rosewood fingerboard with a 9"-12" radius and 22 stainless steel frets, Brazilian Rosewood is increasingly difficult to get hold of and as it gets harder to get hold of, guitars like this become more desirable. Loaded with a duo of SSV humbuckers it kicks out a super spectrum of delicious tone, this is a real statement piece both visually and tonally.
Patrick James Eggle is very much the modern day hero of British guitar design. In addition to being the man behind Faith acoustics and the recently revived Shergold brand, Eggle is best known for crafting boutique guitars of the very highest order. We have a 96 in our pre-owned collection at the moment we can't recommend highly enough. The 96 is Eggle's take on the classic Strat style guitar, with a super light Swamp Ash body and signature open pore finish, it oozes vintage vibes. The neck is crafted from 5000 year old Bog Oak, soft to the touch and offering superior resonance Bog Oak is the UK most precious timber. This one actually one of the first guitars we received from Pat, it's been really well looked after and is in immaculate condition. If you want something a little bit special you need to give this a play!
This is just a small cross section of our electric range; we have further models from PRS, Gibson, Suhr, Thorn and Supro so be sure to check them out.
If you're on the hunt for the perfect companion for your super sweet electric, check our range of used amps. Whether you need an amp for home practice, recording or to push some serious air at the weekends, we've got your back! We have a great range of used Dr. Z amps all in great condition and ready to hit the stage, they offer premium tone and really are at the peak of modern amp construction. We love 'em, and they certainly all come with a hearty Peach recommendation. One of our favourites is the Z Wreck, designed by Dr Z with a little help from legendary Trainwreck main man Ken Fischer, it was designed for country supremo Brad Paisley. A key part of Paisleys sound, the Z Wreck has a touch sensitive response and will deliver exactly the tone you need, from balls to the wall rock through to the slick country twang. Complete with 2x12 open back Z Wreck cab, this is a real gem of an amp.
For those of you looking for something a little more organic, we have a few real sweet acoustics on offer too.
The CF Martin Custom Shop 000-14 is one of the most beautiful acoustics we have ever seen. Hailing from Nazareth, Pennsylvania, this guitar has an incredible Sitka Spruce Bearclaw top, with its unique grain pattern it's a complete one off. The highly figured Indian Rosewood back and sides complete this tonal dream team for a super-rich and sweet natural tone. The Flame Spanish Cedar neck boasts an African Blackwood and Sapwood fingerboard, it has such a distinctive appearance, the contrast between the Blackwood and the pale Sapwood really gives this guitar the ultimate premium feel.
If you are looking to add a touch of the delta blues to your sound, the National El Trovador offers power, projection and an authentic southern vibe. Benefitting from the sonic power of Nationals single cone reso, the Mahogany body gives it a warm, organic feel. With an Ebony fingerboard and '30s style headstock, this beauty is a fantastic example of what makes a National so special.
As always, our used gear is professionally set up, ready to rock and comes with a 3 month warranty (excluding valves).
For further details check our listings and studio pictures or give us a ring!