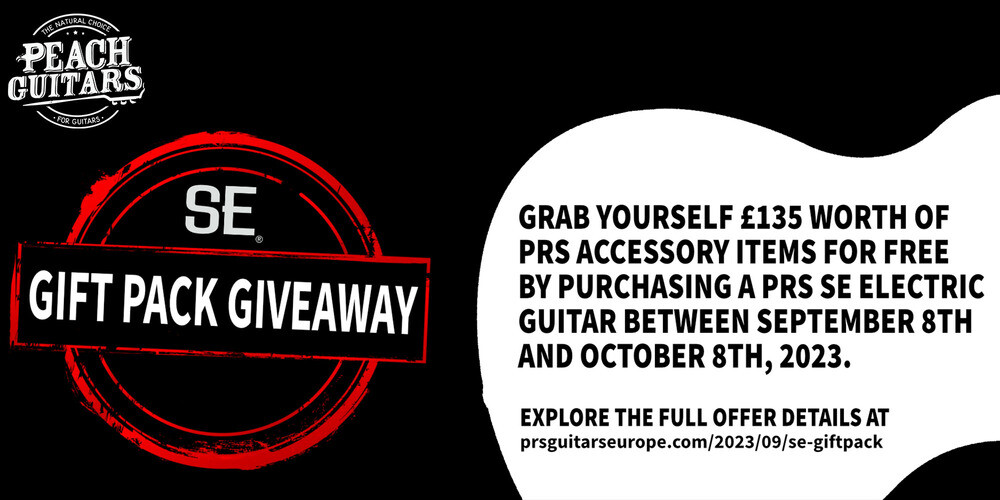 Peach Guitars | £135 gift pack FREE w/ PRS SE Guitars!!
We love PRS guitars, the epitome of master craftsmanship and sonic excellence, they are a force to be reckoned with!
But if premium USA Core Line prices are just out of your reach, fear not, because the PRS SE line brings you a selection of the same incredible designs but at a much more pocket friendly price!
And until the 8th October '23, when you buy a PRS SE guitar, you can claim a PRS accessory gift pack worth £135, for FREE!
To qualify, your purchase must be made between September 8th, 2023 and midnight on October 8th, 2023
The SE Gift Pack Giveaway includes:
PRS 2.75" wide Jacquard strap
PRS Classic instrument cable (18 ft)
PRS Classic Strings
PRS Rechargeable clip-on Headstock tuner
12-pack of PRS picks
BONUS – Win a PRS Sonzera II 20W Combo! When you purchase an exceptional SE guitar, you also enter the chance to win a PRS Sonzera II 20W combo amplifier! The newly upgraded Sonzera 20W combo delivers outstanding sound, versatility, and pairs perfectly with your new SE guitar. PRS Europe will randomly select one lucky winner from all customers who have applied for the Gift Pack Giveaway to receive a Sonzera II 20W combo free of charge!
How to Claim Your Gift Pack:
1. After your purchase, send a scan or JPEG of your dealer invoice to segiftpack@prsguitarseurope.com. Please include your name, delivery address, email and phone number.
2. PRS Guitars Europe will then validate your claim and prepare your SE gift pack.
3. You will then receive your SE gift pack between 5-10 working days for UK shipping, and 10-20 days for Europe shipping.
4. Please note that items are non-refundable and non-exchangeable.
** TERMS AND CONDITIONS ** At PRS Guitars Europe, customer satisfaction is our top priority. Our decision regarding the gift pack and Sonzera II combo giveaway is final, and no correspondence will be entered into. Please note that gift pack items may be substituted at PRS Europes discretion. Ensure to claim your gift pack by October 31st, 2023. The dealer invoice for your SE purchase must be a dealer on the participating dealer list for your gift pack to be valid. This offer is only valid for purchases made at participating dealers between September 8th to October 8th 2023 only, and gift packs can be claimed until October 31st.
Check out our full PRS SE range HERE!