Knaggs Black Rhino #8 Severn X
Founded back in 2009 by long time PRS designer Joe Knaggs, Knaggs Guitars experienced team of world class luthiers craft guitars of the very highest standard.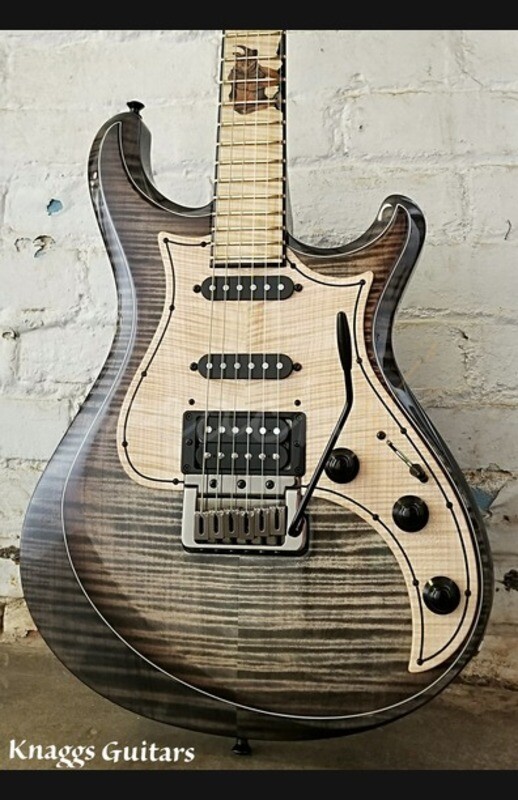 This summer sees a special Limited Run of just 11 guitars featuring a custom Black Rhino inlay drawn by Joe Knaggs. These models were reserved especially for select dealers and long-time Knaggs customers and as such only one is making its way over to Europe. But which dealer is going to end up with such a unique, ultra rare guitar? Well, there was only ever going to one place such a piece would end up, right here at Peach Guitars! We can't wait to get our hands on it!
The Severn X is an innovative and flawlessly designed solid body that delivers massively on tone and playability. With a lush Alder/Curly Maple body, finished in a stunning CharcoalBurst, the X has a punchy tone, is perfectly balanced and super resonant. This incredible guitar benefits from Joe Knaggs signature purfling method, by dividing the top into sections it allows different stains and finishes to be applied to the same piece of wood.
Loaded with Seymour Duncan ATX-K single coils and a TB4 at the bridge, you get premium tone right across the board. The SD ATX-K pickups were voiced specifically for Knaggs and are more focussed and mid responsive than the standard set, it's a great feature.
The attention to detail and innovation on display here is equal to the very best on the market, Joe Knaggs is one of the world's premier master luthiers and with guitars as majestic as this who are we to argue!
For full specs and details check out the full website listing, it's up for pre-order already and is sure to move quickly. Guitars like this don't come around very often and this is going to be a real collectors piece!