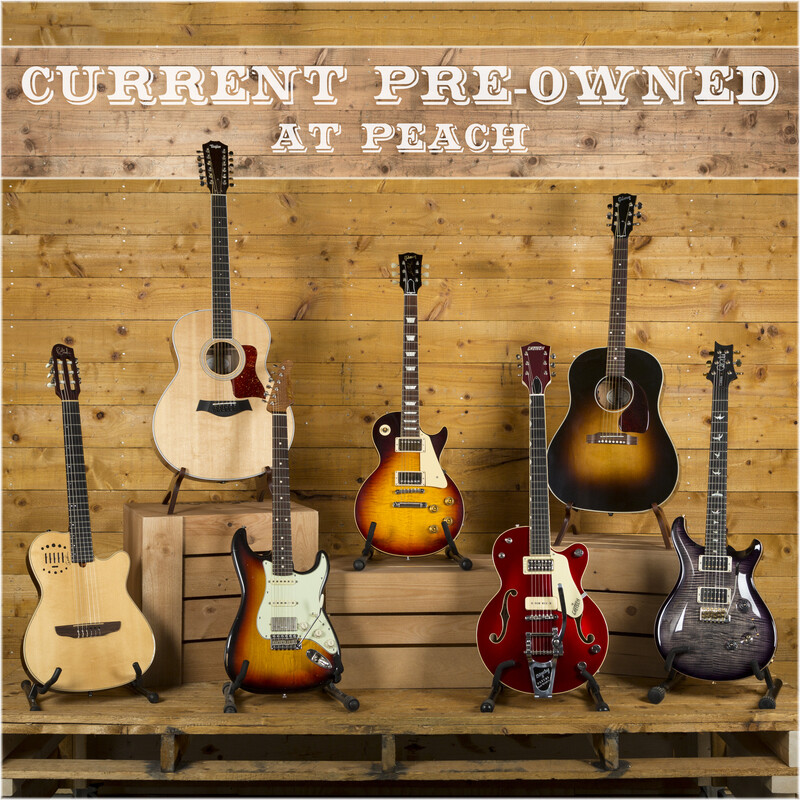 We all love a bargain, right? Well, grab a brew, take a seat and let me fill you in on some of the stellar deals we currently have on pre-owned guitars. We are really proud to stock some of the very finest and most exquisite guitars in the world, and with more incredible new stock turning up every day it's sometimes easy to overlook some of the killer pre-owned gear we have.
Our pre-owned stock changes daily so to make sure you don't miss anything type USED in the search bar at the top of our website. We have a great selection in at the moment so check them out; we might just have what you have been searching for!
First up, we have a real treat for all you disciples of Mr Paul Reed Smith, not one but two stunning PRS models. The Custom 24/08 Wood Library in Charcoal Purpleburst is one real cool cat, PRS Wood Library models are always a little bit tasty as they are crafted using a select collection of elite woods kept back for special runs such as this. This little minx boasts a combo of Swamp Ash, Figured Maple and Gaboon Ebony for a total tonewood dream team, and with a pair of PRS 85/15 humbuckers delivering crystal clear note clarity, this guitar is up there with the very best.
Maybe you're a fan of the McCarty 594, if so, you're going to want to check this out, we have an insane single cut in Tobacco Sunburst. At £2899, this beaut fuses vintage design and modern functionality for the ultimate player's guitar.
Aside from Maryland's finest, we have a duo of super flamboyant signature Ibanez guitars for you to feast your eyes on. First up is the JEM77P-BFP, long the weapon of choice for speed freak Steve Vai, the JEM is built for slick, rapid arpeggios and sweep picking. This Blue Floral Pattern model is a real statement piece, as visually striking as it is tonally; it takes shred to the extreme! Frank Gambale is not your average player, and the FGM300 is not your typical jazz fusion guitar. In production between '94 and '96, this Japanese model is based on the Ibanez S series shape and features a trio of Di Marzio pups to cover a vast tonal spectrum. In really nice condition and increasingly difficult to source, this is a real find!
A personal favourite of mine is the Gretsch G6115T-LTD15 Red Betty, loaded with a Seymour Duncan P90 at the bridge and a high sensitive Filter'Tron at the neck, this is more than just a delicious rockabilly beauty, it's a crystal clear tone machine! With a flawless Candy Apple Red finish, this guitar is a real looker. The Maple neck and Ebony board offer that winning combination and the Standard U shape neck shape is solid, comfortable and ready to rock. A Bigsby B7CP tremolo offers the ultimate country players accessory and delivers incredible tuning stability and slick response.
This is just a small cross section of our electric range, we have further models from Xotic, Fender Custom Shop, Gibson, Schecter, Jackson and James Tyler.
If you're on the hunt for the perfect companion for your super sweet electric, check our range of used amps. Whether you need an amp for home practice, recording or to push some serious air at the weekends, we've got your back! We have a great range of used Dr. Z amps including a Maz Jnr 18 NR, Z Lux and a Maz 38 Snr Head. All in great condition and ready to hit the stage, they offer premium tone and really are at the peak of modern amp construction. We love 'em, and they certainly all come with a hearty Peach recommendation. Joe Walsh loves 'em too so who are we to disagree.
We also have a duo of absolutely glorious Mesa Boogie amps including the insane Transatlantic TA-15 head. Possibly the best lunchbox amp around, this little firecracker goes from clean to scream and everything between, it may be small in size but it's huge on tone! Much like the Daddy, the Mesa Boogie Mark V. This complete behemoth of an amp is among the most versatile and well rounded to ever hit production. Packed full of stage conquering tone, the Mark V offers studio level precision; it's a favourite of John Petrucci and we can totally see why! Ours is priced super competitively so we're not expecting it to hang around!
For those of you looking for something a little more organic, we have a few real sweet acoustics on offer. The Taylor 458e is the pinnacle of 12 string playability, the Ovangkol and Spruce tonewood combination perfectly complements the bold sound of this strummers dream. With a dynamic response and full range, this is a 12 string that certainly won't divide opinion. It's a winner.
The Gibson J45 is one of the most iconic guitars of all time, the ultimate workhorse guitar, it delivers rich tone, effortless playability and timeless styling. Rockin' a Mahogany back and sides and a lush Sitka Spruce top, the J45 has a natural and beautifully balanced tone. Loaded with an LR Baggs Element VTC pickup system, this guitar is ready to hit the road, great on the stage or in the studio it's a classic model.
The MciLroy A15 is the definition of rare. This prestige guitar was hand crafted by master luthier Dermot MciLroy back in 2015 to celebrate 15 years of MciLroy Guitars. It's a one of a kind that features some really exceptional tonewood options. Solid Brazilian Mahogany, AAAA grade Western Red Cedar, Maple, Pear, Ebony, Paua Abalone and Amber all feature on this guitar in some capacity, if you're looking for luxury, you've found it!
As always, our used gear is professionally set up, ready to rock and comes with a 3 month warranty (excluding valves).
For further details check our listings and studio pictures or give us a ring!