We love guitars with a bit of a story behind them, and this little stunner from legendary British Luthier Patrick James Eggle has just that. Grab a brew and I'll fill you in.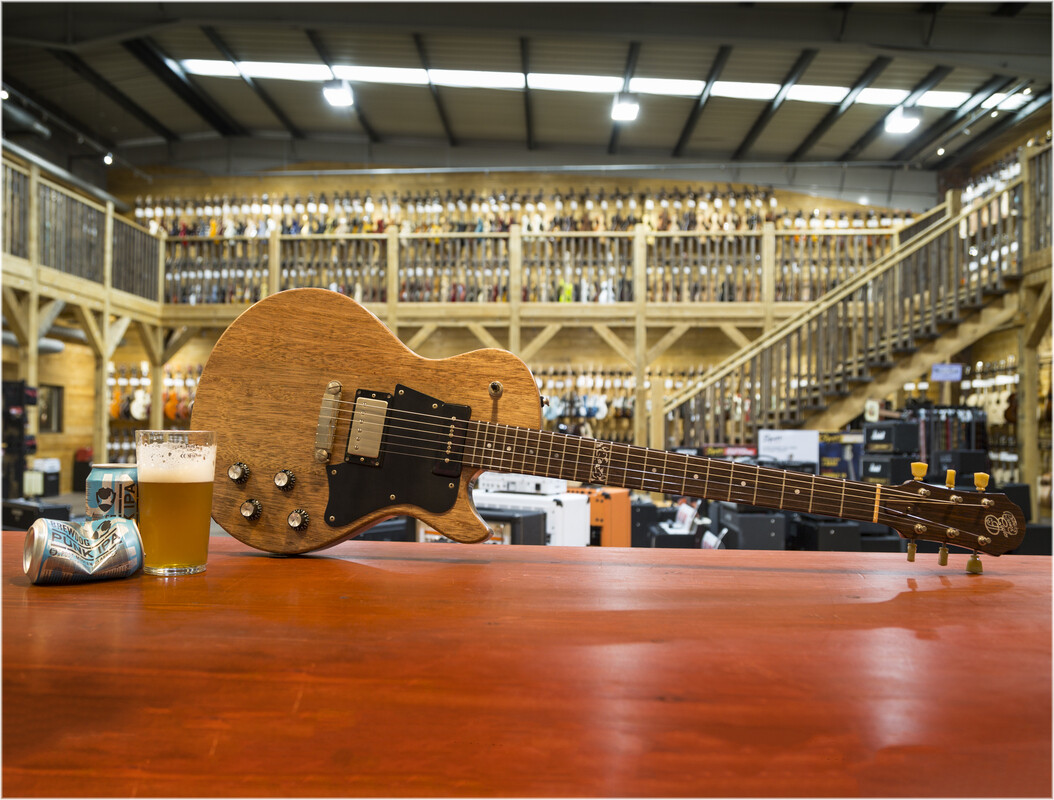 It's always a bit of a tragedy when a good old English pub closes its doors for the final time, but this is unfortunately the fate of The Pigs, a traditional old alehouse in Corsham, Bath. Famed for its mega selection of beers and ales, as well as its weekly blues night, it also happened to be the local pub of choice for some of the good folk at The Guitar Magazine.
So, as 2017 dawned and The Pigs shut their doors for the last time, the staff at The Guitar Magazine devised a plan that would see the memory of their local kept alive and thriving. By taking the bar top, with years of spilt booze and stories seeped into the grain, and placing it in the skilled hands of Patrick James Eggle, something pretty special was created.
The Patrick James Eggle Macon Junior "Two Pigs" Limited Edition is an absolute masterpiece, preserving the legacy of The Pigs in a trio of Masterbuilt guitars.
Crafted from the reclaimed Meranti, a species of Mahogany, this guitar is super resonant with a real nice earthy tone. It's a really comfortable weight and the Macon Junior shape is beautifully balanced and poised, you can tell it's something special even at first glance. The Meranti neck features a slick Rosewood fingerboard and custom "Two Pigs" inlay, it's a worthy tribute to the history of such a long established pub.
Loaded with a duo of Mojo pickups, a Humbucker at the bridge and a P-90 at the neck, you get a plethora of premium tones. Super versatile and with unreal note definition, this guitar is a powerhouse tone machine. Housed in a shaped white tweed case, you get rugged protection when you're on the road.
So out of the darkness of a popular local drinking spot closing down rises this majestic phoenix of a guitar, there was only ever one man for this job and once again Patrick James Eggle has created something pretty damn incredible!