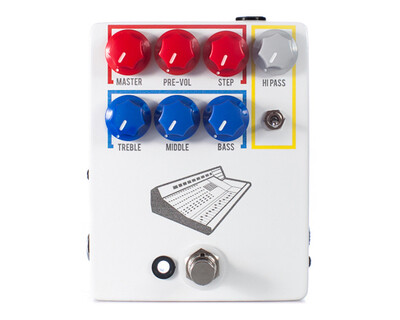 The new Colour Box isn't a conventional pedal, nor is it just for guitars. You'll be using it on acoustic and electric guitars, bass, keys, vocals, drums, and using is as an insert on the mixing desk!
It's based on a legendary mixing desk pre-amp and eq section. The 'magic' sound of these consoles is down to several key attributes, but at the heart of the Colour Box lies a console grade transformer. This gives all the warmth, and tone, which is not possible in transformer-less pre-amps.
There's a huge amount of gain on tap, so you can dial in a subtle tone colouring, all the way up to analogue fuzz destruction!
When JHS were creating the promo video's, they flew over to London, to visit Abbey Road Studios, where they used some of the first Neve consoles. The engineers and producers at Abbey road were blown away, and they all have their orders placed!
The pedal has both balanced XLR and unbalanced 1/4" inputs and outputs, for great flexibility.
There's further information on the product page, and a great video by Pete Thorn.
Console grade pre-amps have never been offered in such a compact pedal, and if you know the price of similar grade outboard units, this is an absolute bargain!
Get your orders in before I buy them all and make a pedalboard console!