Gibson Custom True Historic Series

Gibson have been obsessively working to create the most authentic, vintage accurate instruments available. They have taken it to greater levels with the new 2015 True Historic guitars. We've been anticipating these guitars for a while, and when John saw them in Nashville, he was blown away!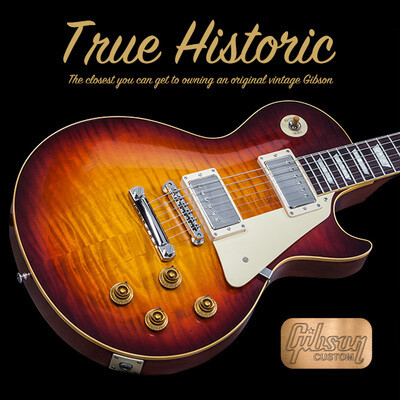 New features on the True Historic range include;

True Historic Plastics: Gibsons technicians have analysed original '50's Gibson plastics on a molecular level, to re-create authentic feel, design, and look!

True Historic Pickup Covers: Original pickup covers have been studied to re-create them with pain-staking accuracy.

Double-Carved tops: They've taken it a step further by double-carving the tops, to match authentic 'vintage-dish' tops.

Double-Carved necks: Hand sanded, for the best playability, and period accurate neck profiles.

Re-engineered tuning peg heads: Gibson have taken the obsession further, by replicating the smooth edged, original style peg heads to 'vintage counterfeit' levels of detail! Even finishing them with an more accurate thinner veneer!

True Historic Wet Sanded finish: The finish has been re-developed, which is even more labour intensive, but yeilds the ultimate authentic look and feel.

Hide Glue Top Construction: The most original re-creation yet, wouldn't be complete without original glue!

Rolled Fingerboard Binding: It's all in the touch, and these guitars play and feel exactly like the real deal!

The True Historic Les Paul reissues are available from the '56 Goldtop, all the way to the '60 'burst.

Be sure to check out these incredible guitars when they arrive in Peach Guitars this month!