Some fresh incomings at Peach Guitars this week from L.R Baggs, with a great range of acoustic performance tools including DI Boxes and acoustic pickups, there's no better time to check out this incredible range of acoustic sound solutions.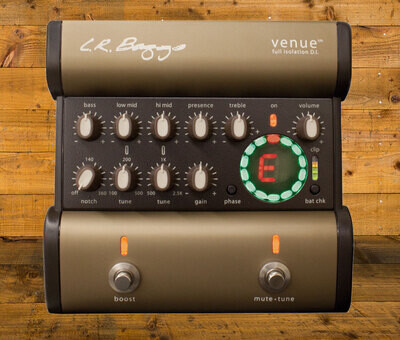 First up is the incredible Venue DI Floor Box, possibly the most comprehensive tool for the gigging musician. Designed for players who like to travel light, set up quickly and sound great on any stage, it offers elite studio sound quality in all live situations. With a 5 band EQ and adjustable gains for both active and passive pickups, the Venue DI is an essential bit of kit for players looking to take their acoustic sound to the next level. Also in the range is the Session DI, with a 3 band EQ and analogue saturation, you get enhanced warmth and harmonic content, a great feature for those looking to create a truly organic vibe. With a whole host of studio level features at the click of a button, these no compromise DI boxes will elevate your live sound to new heights! They are much more than just DI boxes, they are tonal control centres.
The no nonsense Para Acoustic DI preamp gives you everything you need to deliver crystal clear note definition and rich, uncompromised tone every night. Designed for use on the road, this robust little powerhouse delivers in a big way.
If super dynamic and responsive acoustic tone is your thing, be sure to check out the L.R Baggs range of acoustic pickups. The Element is a one size fits all, active undersaddle pickup that utilises soundboard movement rather than string compression to pick up every little tonal nuance. High fidelity sound, easily accessed and at a great price, it's a great option. The M1 soundhole humbucker is perfect for players who like total control over their sound. Carefully tuned to capture higher frequencies it boosts your signal internally for a deep, rich and unrivalled sound. For an even more complete acoustic profile, try the Anthem, a dual pickup and mic option. Using the L.R Baggs TRU-MIC system, it captures the natural ambience around your guitar through the underside mounted bridge microphone. This gives you a real clear and live tone, not sterile or limited like some pickups.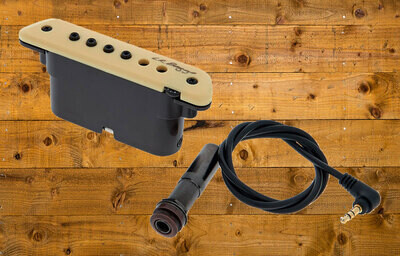 The L.R Baggs range is really highly thought of and with products like these it really isn't surprising. So if you are looking to unleash your acoustics full potential, L.R Baggs in definitely worth a look!