Last Friday saw legendary Fender Custom Shop Masterbuilder John Cruz pay a visit to the hallowed Peach saloon.
A veteran of 24 years in the Custom Shop, John is considered by many to be the premier Fender Masterbuilder. He is the mastermind behind the replica SRV #1, the Jeff Beck Esquire and the John Mayer Black 1 Strat, the King of authentic guitar ageing, John also painstakingly recreated the Gary Moore '61 Fiesta Red Strat, this guy is the real deal!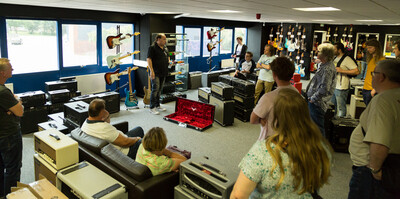 He was happy to chat with everybody and answer any questions fired at him during a Q&A session; his answers were really insightful and gave a really great inside look at the creative and constructive process involved with crafting some of the most in demand guitars in the world.
With a couple of his own Masterbuilt guitars in tow, he treated us to a cracking demo and even gave everybody the opportunity to step up and try them out. One of these guitars, the Blue Sparkle Burst Strat, is now proudly sitting in our Fender Custom Shop room and is up for grabs both online and in store.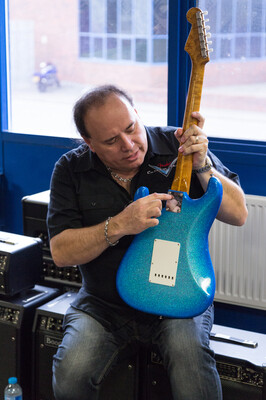 A huge thank you to everybody that turned up, we hope you found it as enjoyable and interesting as we did, and a special thanks and Peach salute to Mr John Cruz, we love your work and we hope to see you again soon!